DHTC Provides GWO Certified Safety Training
Date: Tuesday October 10, 2017


DHTC is now also providing Global Wind Organisation, GWO certified safety training for the wind energy sector. The training courses are designed and developed for professionals engaged in the construction, inspection, maintenance and repair of wind turbines both at sea and on land. But institutions responsible for enforcement, monitoring and rescue operations that carry out their duties in and around wind farms at sea can also take these training courses at DHTC.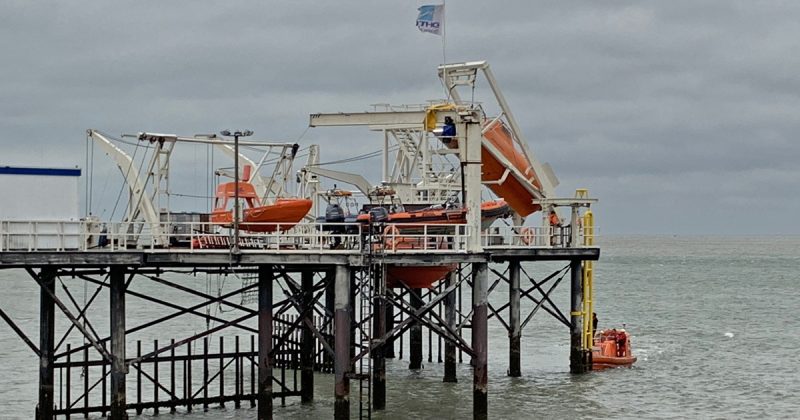 GWO modules
The GWO certified modules Sea Survival, Manual Handling, First Aid and Fire Awareness provide participants with knowledge and training in dealing with the sometimes unusual risks in the offshore wind energy sector. DHTC's Training Manager Ruud Oliemans explains: "The workplaces in this sector require specific safety training, sometimes with special materials. A tens of meters high structure arising from the sea, usually with a cramped 'engine room' full of technology, requires serious thought about safety aspects. And moving to or from there also differs from your average commute."
Transition piece
In addition, DHTC has put a transition piece into use. It is a bright yellow landing structure to realistically train the safe transfer from boot to offshore wind turbine and vice versa. Descending techniques and climbing and fall protection applications applied here are also discussed. Making an emergency drop in a survival suit and with a life jacket, ending in the water, which immediately proceeds to survival techniques at sea, is a regular part of the training.
Cooperation
For the GWO module Working at heights, DHTC sought cooperation with Industrieel Klimmen b.v. from Wormerveer to enable registration for the complete GWO certification.
Offshore Wind
Within six years, in 2023, approximately 5 million households will have electricity from wind turbines that have been placed off the Dutch coast. At least 437 wind turbines, 8 megawatts each, will be achieved within this short period of time. After that, plans have been prepared to expand the share of offshore wind in the Dutch energy supply. DHTC is ready to contribute to the safety of anyone who works or will be working in this highly developed sector.
Introduction prices
As an introduction to the GWO certifications achieved, attractive competitive course fees now apply.