Larger and more economical? Safety First
Date: Thursday July 08, 2021


Five years ago, the Gemini wind farm, 55 km north of Schiermonnikoog was completed. The park has 150 wind turbines with a capacity of 4 megawatts each. Last year wind park Borssele 1 & 2 was completed off the Zeeland coast with 8 megawatt turbines. Technology is rapidly developing, turbines are growing in size, companies are now building with turbines of up to 11 megawatts, like wind farm 'Hollandse Kust Zuid'. The rotor of a turbine is about 100 meters long: A rotating soccer field. Wind farm Hollandse Kust Zuid has a capacity of 1500 megawatts. At the moment, the first foundations are being put on the North Sea. A tough job.
Safety First
Of course the work needs to be done completetely safely and free of risk. In the offshore, almost everything is by definition large, heavy and therefore potentially risky.That is why safety is being stressed: in that matter offshore wind does not differ much from the oil- and gas industry, where the 'Safety First' motto counts.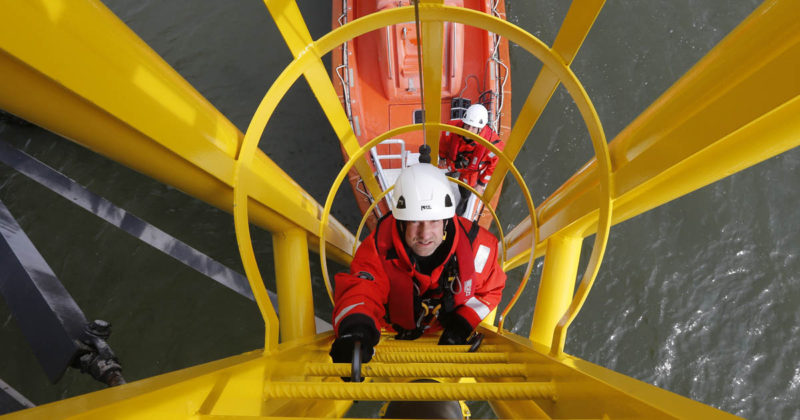 DHTC Safety training for the wind industry for 15 years – GWO BST
Based on decades of training experience in safe working at sea, DHTC has been active for 15 years with training programs specifically developed for the wind industry. DHTC offers 4 modules of the GWO Basic Safety Training in a 4-day training in which the following topics are discussed in greater depth: Sea Survival, Manual Handling, Fire Awareness and First Aid.
GWO Certified
Our trainings are certified by the Global Wind Organization (GWO), a guarantee for participants to apply their skills and certificates to the wind industry worldwide. GWO is a non-profit organization founded by wind turbine manufacturers and owners. An injury-free working environment is pursued, with common international standards for safety training and emergency procedures.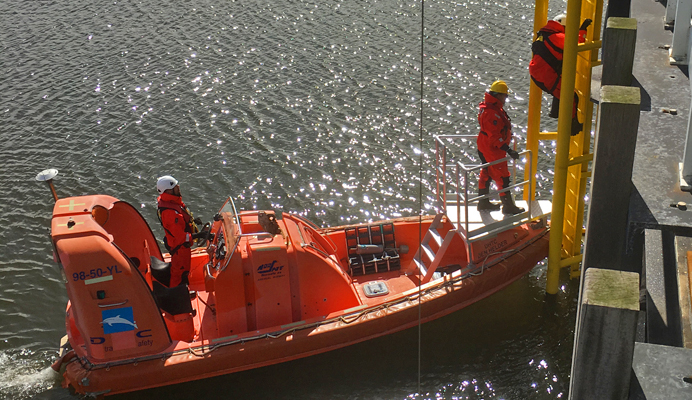 In our GWO Basic Safety Training participants are practiced in the most realistic way (see pictures) in the essential skills that are necessary for safe working in this sector. On our website DHTC.com you can read more about our GWO trainings and you'll find the training that fits your needs.
Our GWO BST course modules are very competitively priced!
On 1 and 2 September 2021 a GWO BST training is planned. Are you interested?
We are happy to accommodate your booking!  Of course it is also possible to schedule dates at your request (groups).