OFFSHORE SAFETY INTRODUCTION AND EMERGENCY RESPONSE TRAINING NOGEPA 0.5B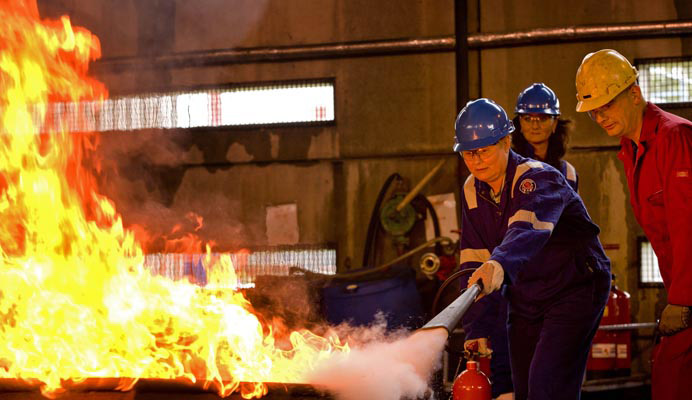 Course code
NOGEPA 0.5B
Validity certificate
4 years
Course duration
1 day
Course price (excl. VAT)
€695,00
Intended for
Persons travelling to and performing activities on an offshore mining installation.
Objectives
To train delegates in acquiring and maintaining a sufficient level of understanding of circumstances, hazards and sufficient knowledge and skills in relation to safety techniques and basic emergency response actions, while travelling to and from, and working on an offshore installation.
Course content
Basic knowledge of first aid and hypothermia, Immediate first aid actions prior to arrival of medic/first aider.
Review of safety in the offshore industry and the availability and use of personal protective equipment.
Fire prevention and fire-fighting instruction with small fire extinguishers, hose reel and the use of a fire blanket.
Escaping from a smoke filled area with the use of an escape mask / smoke hood
Survival at sea, individual and group survival techniques and rescue techniques.
Use of helicopter sling and position during hoisting.
Helicopter safety and H.U.E.T. + EBS, abandoning a helicopter in various situations
Instruction and training in personal descending system. On request, the additional training module Total Access S-Cape system (as required for Neptune, N.A.M. & Shell) can be booked separately.
Course details
Prerequisite training
The course participant must be in the possession of a valid certificate or stamp in PSL of the NOGEPA 0.5A/B
Medical requirement(s)
The course participant must be in the possession of a valid NOGEPA / OGUK / UKOOA / OLF / AWMF approved offshore medical certificate.
Course language
Dutch and English
Maximum No. of participants
12
Additional information
On request, this course can be scheduled in combination with a NOGEPA 0.5C CA-EBS course. You need to register for both courses separately.
Registration costs (excl. VAT)
€ 10,00
Start dates
28-02-2020
Zeilmakersweg 10
Den Helder
08:30
Available seats: 3
11-03-2020
Zeilmakersweg 10
Den Helder
08:30
Available seats: 5
30-03-2020
Zeilmakersweg 10
Den Helder
08:30
Available seats: 9
23-04-2020
Zeilmakersweg 10
Den Helder
08:30
Available seats: 8
11-05-2020
Zeilmakersweg 10
Den Helder
08:30
Available seats: 9
28-05-2020
Zeilmakersweg 10
Den Helder
08:30
Available seats: 11
18-06-2020
Zeilmakersweg 10
Den Helder
08:30
Available seats: 12
29-06-2020
Zeilmakersweg 10
Den Helder
08:30
Available seats: 12
20-07-2020
Zeilmakersweg 10
Den Helder
08:30
Available seats: 12
28-08-2020
Zeilmakersweg 10
Den Helder
08:30
Available seats: 11