OFFSHORE SAFETY INTRODUCTION AND EMERGENCY RESPONSE TRAINING NOGEPA 0.5A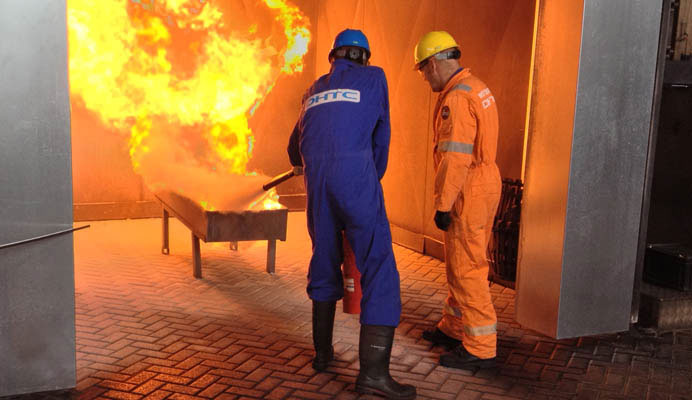 Course code
NOGEPA 0.5A
Validity certificate
4 years
Course duration
3 days
Course price (excl. VAT)
€1125,00
Intended for
Persons travelling to and from, and performing activities on an offshore mining installation.
Objectives
To train delegates in acquiring and maintaining a sufficient level of understanding of circumstances, hazards and sufficient knowledge and skills in relation to safety techniques and basic emergency response actions, while travelling to and from, and working on an offshore installation.
Course content
Helicopter safety. An emergency deployment of the CA-EBS in a shallow water environment. Theory and practice H.U.E.T. (Helicopter Underwater Escape Training).
Sky Scape Escape Chute training and demo Norwegian Survival suit (demo).
Basic knowledge of first aid and hypothermia.
Instruction and training in personal descending system. On request, the additional training module Total Access S-Cape system (as required for Neptune, N.A.M., Shell and TAQA) can be booked separatel
Survival at sea, personal and group exercises and the use of the survival equipment.
Offshore oil and gas activities offshore legislation and environmental aspects.
Introduction health and safety system and the use of Permit to Work System.
Fire prevention and fire-fighting instruction with small fire extinguishers and fire blanket and use of smoke hood.
Course details
Prerequisite training
No specific knowledge required
Medical requirement(s)
The course participant must be in the possession of a valid NOGEPA / OGUK / UKOOA / OLF / AWMF approved offshore medical certificate, if possible including the 'Fit for CA-EBS Wet Training registration'.
Course language
Dutch and English
Maximum No. of participants
12
Additional information
As of July 1st, 2020 the previously separate CA-EBS training is included in the NOGEPA 0.5A course. The participant no longer receives a separate CA-EBS certificate.
Registration costs (excl. VAT)
€ 10,00
Start dates
13-06-2022
Zeilmakersweg 10
Den Helder
09:00
Available seats: 0
27-07-2022
Zeilmakersweg 10
Den Helder
09:00
Available seats: 4