HELICOPTER UNDERWATER ESCAPE TRAINING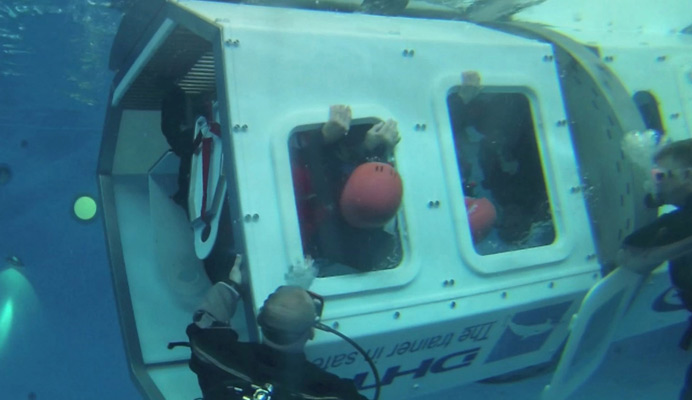 Course code
HUET basic
Validity certificate
4 years
Course duration
1 day
Course price (excl. VAT)
€595,00
Intended for
Helicopter passengers that (sometimes) fly to and from offshore installations, ships and offshore wind farms and not need a NOGEPA 0.4, 0.5A or 0.5B.
Objectives
To train the student how to escape from a helicopter while underwater.
Course content
Dry and wet emergency landing.
Preparation for an emergency landing.
Helicopter safety, familiarisation with procedures related to helicopter safety in various stages of the flight.
EBS (Emergency Breathing System) familiarization.
Abandoning helicopter in various situations; floating upright and capsized in the water, with and without the use of an EBS.
Course details
Prerequisite training
No specific knowledge required
Medical requirement(s)
The course participant must be in the possession of a valid NOGEPA / OGUK / UKOOA / OLF / AWMF approved offshore medical certificate or a Pilot medical / Divers medical or Seafarers medical.
Course language
Dutch and English
Maximum No. of participants
12
Additional information
On the Dutch & English continental shelf an additional Cat.-A CA-EBS / NOGEPA 0.5C CA-EBS certificate is compulsory. You need to register for this course separately.
Registration costs (excl. VAT)
Start dates
06-03-2020
Paleiskade 70
Den Helder
09:00
Available seats: 8
27-03-2020
Paleiskade 70
Den Helder
09:00
Available seats: 11
08-05-2020
Paleiskade 70
Den Helder
09:00
Available seats: 12
17-06-2020
Paleiskade 70
Den Helder
09:00
Available seats: 12
17-07-2020
Paleiskade 70
Den Helder
09:00
Available seats: 12