COMPRESSED AIR EMERGENCY BREATHING SYSTEM (CA-EBS) TRAINING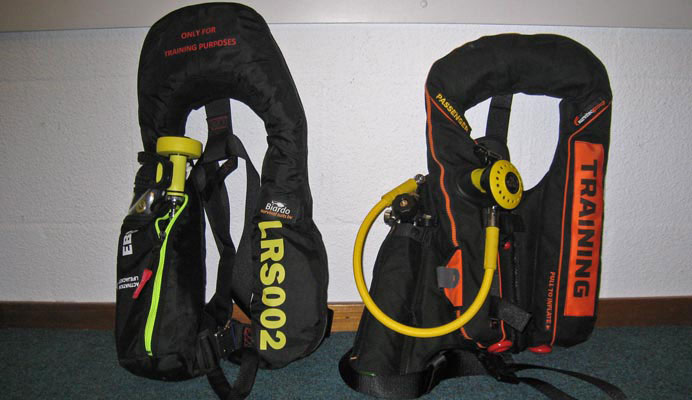 Course code
CA-EBS
Validity certificate
No expiry
Course duration
2 hours
Course price (excl. VAT)
On request
Intended for
Personnel that are issued with Categorie A CA-EBS system (Compressed Air Emergency Breathing System) whilst travelling to and from offshore installations by helicopter and may be required to use a CA-EBS in the event of an emergency. As from July 1, 2020 this training is integrated in the NOGEPA 0.5A and 0.5B courses.
Objectives
The objective of the training is to ensure that the delegate gains the required knowledge and understanding of the particular hazards and properties of a life jacket equiped with a CA-EBS system and appropriate practical emergency response actions to take should the requirement for emergency deployment arise.
Course content
The fundamental differences between re-breather and compressed air systems (technology and use).
The rationale and use of compressed air emergency breathing system in helicopter emergency situations.
The hazards associated with compressed air emergency breathing systems.
A pre-flight inspection of the life jacket and CA-EBS.
Donning the life jacket with CA-EBS correctly, including "buddy check".
An emergency deployment of the CA-EBS in a dry environment.
LRS002 (Dutch) and Survitec Mk50 (U.K.) training life vests with Cat. A CA EBS system will be used.
Course details
Prerequisite training
The course participant must be in the possession of a valid certificate or stamp in PSL of the NOGEPA 0.5A or 0.5B issued before July 1, 2020
Medical requirement(s)
The course participant must be in the possession of a valid NOGEPA / OGUK / UKOOA / OLF / AWMF approved offshore medical certificate, if possible including the 'Fit for CA-EBS Wet Training registration'.
Course language
Dutch and English
Maximum No. of participants
6
Additional information
None
Registration costs (excl. VAT)
Start dates
For course dates, please contact the DHTC booking office, Phone:
+31 (0)223 - 62 50 70
or
info@dhtc.nl